Qmlativ Spotlight: Negative Net Check Processing
#Product Updates
Caitlin Barton

Product Manager
Read time:
Listen to this article

If your district has a lot of employees working less than normal hours, chances are, negative net checks have become a burden. A lot of manual intervention is required to sort out which deductions to remove. Plus, you somehow have to remember to collect those funds in a later payroll.

What if this process was no longer manual?

What if there was a way to automatically adjust negative net checks to zero, track which deductions were adjusted/omitted to make the check zero, and process the adjusted/omitted deductions in a later payroll run?

You guessed it—now you can in Skyward!


Note: Negative Net Check Processing is an optional feature included in your Business Core license. It will only affect your payroll process if you choose to set it up.


How does Negative Net Check Processing work?
It's as easy as 1, 2, 3, 4, 5!

1. Your district's payroll staff will configure the Negative Net Check Deduction priority. This configuration tells the system which amounts to remove from deductions in what order, until the check reaches a net zero amount.

2. As you set up the deduction priority, consider enabling the Create Catch-Up option. This option records deduction amounts removed from checks during the Zero Negative Net Checks workflow. (If you don't check this option, you can still review the Deduction Catch-Up Totals List as a payroll feature option.)

3. As you begin payroll, run the Catch-Up Deductions workflow. This workflow will add deduction amounts that could not previously be deducted via payroll.

4. Next, run the Zero Negative Checks workflow for checks that resulted in negative net checks during the Net Check Calculation. You could also manually edit the Deduction Amounts workflow after running the Zero Negative Net Check workflow to give employees a small amount in their paychecks.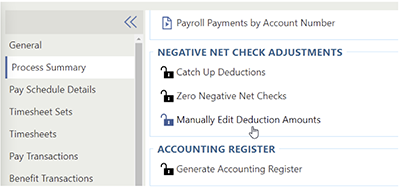 5. In the workflow, choose whether to check or uncheck the Create Catch-Up option. If you uncheck this box, the amounts not collected will fail to be recorded for future payroll catch-ups.

How can my district get started?
If you're looking to get started with Negative Net Check Processing, the first step is to configure the Payroll District Configuration for Negative Net Check Deduction Priority. Once this setup is complete, the Negative Net Check Adjustments feature can be used under the Payroll Process Summary.

Who can carry out this task? Any employee who already has access to the Payroll Run will also be given access to the new Net Negative Check Adjustments portion of the Process Summary. If you don't have access to the Payroll District Configuration, you'll need to get additional assistance to be able to configure the Negative Net Check Deduction Priority. Start by contacting your internal IT staff. If they need help with setup or have other questions, they can submit a service call to Skyward. We'll be happy to help!


If your district is dealing with negative net checks, it's time to make this cumbersome manual process a thing of the past. Work smarter with Negative Net Check Processing!

Follow-Up Resource: Guest Post: Our True Time Journey
"Seven years ago, our district was drowning in paper, short on time, and lacking accurate time-keeping records. That's when we decided to give True Time a try." Read Middleton-Cross Plains' story—and travel to the National Mustard Museum!
Caitlin Barton

Product Manager