"Easy-Peasy" At Your Fingertips: Embedding Skyward Videos on Your District Website
#Tips
Chad Aiken-Zdroik

Video Virtuoso
Read time:
Did you know you can embed any of our Family Access Toolkit videos directly onto your district's website? It's easy, effective, and helpful—we'll show you how!

a True story: While browsing in a boutique recently, Georgia Omer overheard two parents discussing how to best check their children's grades in Skyward. "Of course, I perked up and listened," Georgia says—she is Alpine School District's reigning Skyward curriculum specialist (i.e., the Skyward point-person) in Utah. One of the parents pulled up the district's website on her phone and showed the other all the video tutorials featured there. Georgia recalls hearing the other parent's response: "Easy-peasy!"

Skyward's Power-Ups, the tutorials in question, are featured prominently on Alpine's district website by design. The Power-Ups, and all the Toolkit videos, are quick (read: 60 seconds!) and accessible, covering everything from attendance, grades, and the message center to "what parents see," course requests, and registration (plus much more!). There are Toolkit videos for students, teachers, parents, administrators, and employees.

Georgia remembers finding herself in search of guidance when she stumbled upon a Power-Up. It "made my learning fast, easy, and reliable," she says. "I simply thought, 'Why am I reinventing the wheel? These are fantastic resources, so why aren't we using them?' I went on a treasure hunt, found all of the Power-ups Skyward offered, embedded them on our site, and voila!" She says the positive feedback came immediately—and with good reason: "They are professionally made, to the point, make the users feel at ease, and are super-easy to follow and use."

Your own district can benefit from these Power-Ups (and any of our other videos) by embedding them on your website. "Easy-peasy!" indeed. Here are two simple methods:
#1: "The Right-Click Method"
1. Move the cursor over the video tutorial you'd like to share.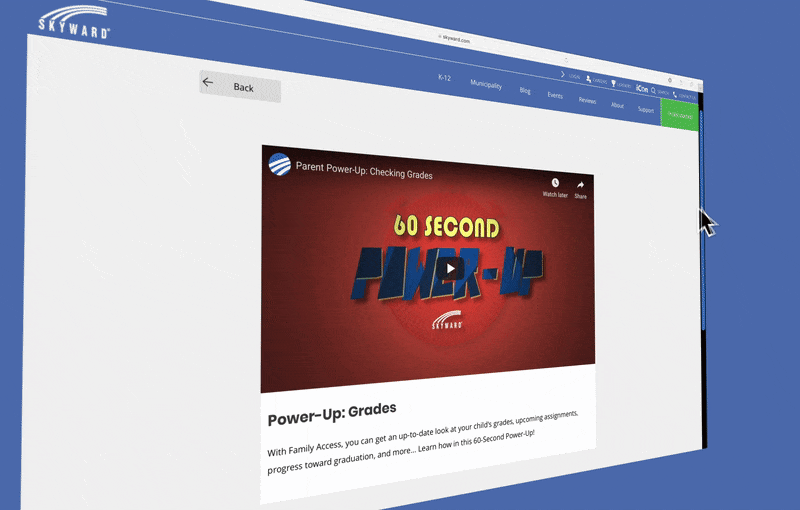 2. Right-click and in the drop-down menu press "Copy embed code."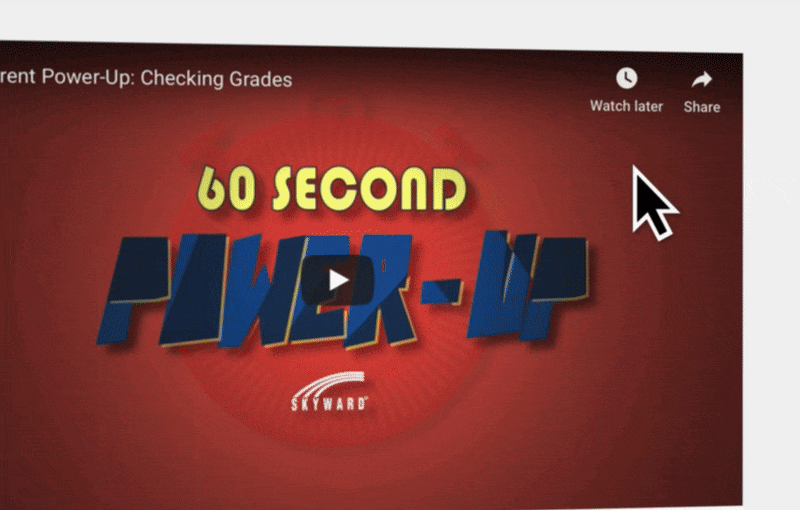 3. Paste the embed code onto your webpage! (That's it!)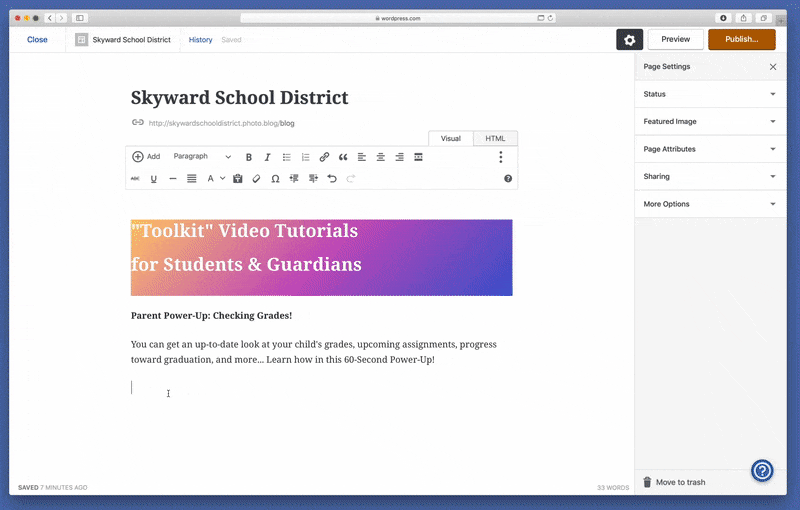 #2: "The YouTube Method"
1. Click on the title on the top of the video you'd like to share to go to the video's YouTube page.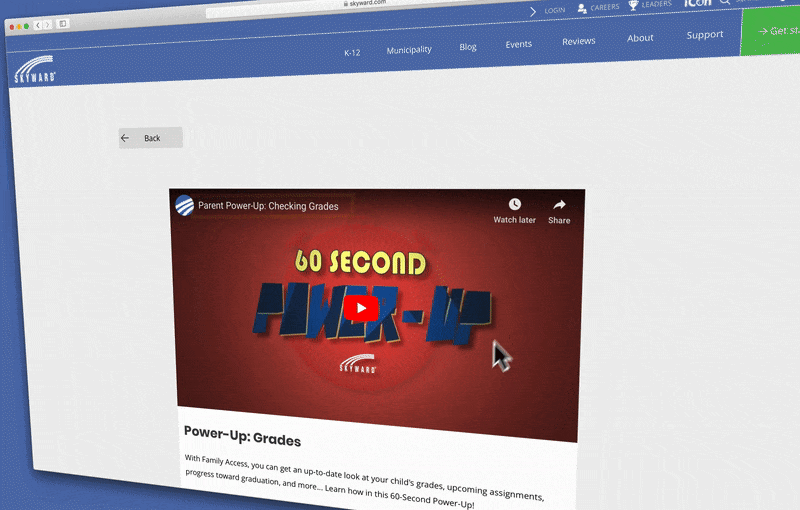 2. Beneath the YouTube video window on the right, click "Share" (next to the arrow icon).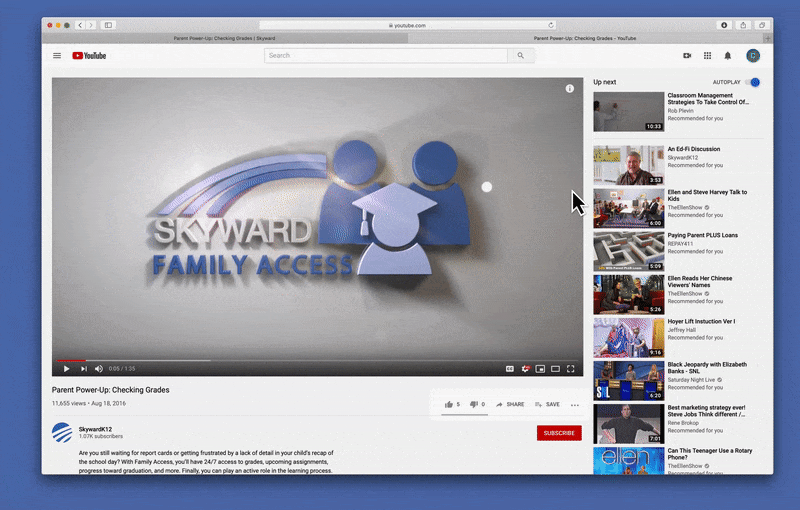 3. On the screen that pops up, click "Embed" (you see where this is going!).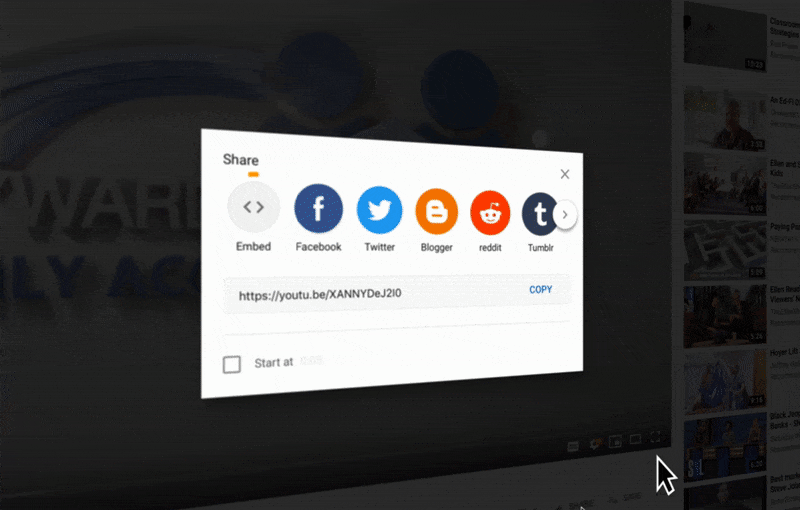 4. Copy the embed code. (If you'd like to start at a certain time, like 6 seconds in, you can do so here, too—simply check the "start at" box and specify the time before copying the embed code).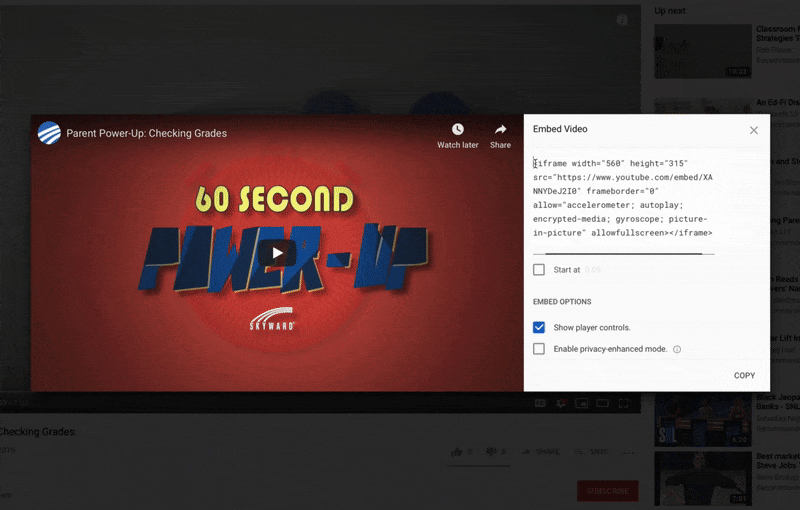 5. Paste the embed code onto your webpage. (Easy-peasy!)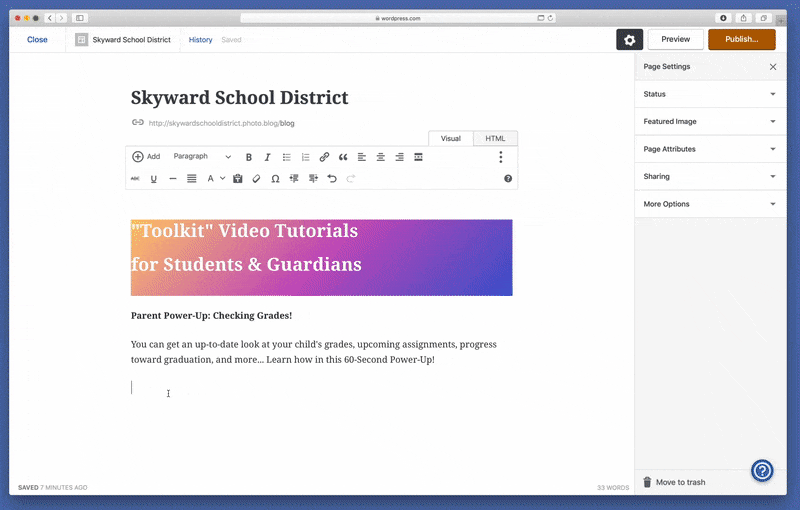 Follow-Up Resources: Family Access Toolkit
Check out our Family Access Toolkit and get started embedding these videos on your district's website!
Chad Aiken-Zdroik

Video Virtuoso