Midyear Check-In: 2018 Conversation Topics
#Leadership
After six months, how have our 2018 predictions fared so far? What's making the news and what we can learn? Let's take a look!


Far-Reaching School Culture
What we said in January:
School culture is finally getting the attention it deserves.
Leadership has the strongest influence on culture.
A great culture makes a district into a "destination" for families and educators.
For best results, include everyone in planning and feedback.

In the news:
In the early part of 2018, two very different aspects of school culture received vast coverage: what happens when school culture turns toxic, and how to expand your school culture beyond the walls of classrooms.

A graduation scandal in Washington, D.C., exemplified the consequences of culture gone awry. When an audit revealed more than 30% of graduates (about 5,000 students) had not met requirements for graduation, leadership was called into question and eventually removed. The scandal revealed whistleblowers from the district had been threatened by the superintendent to keep up the charade. No one wins in a culture like this, least of all students caught up in the poor behavior of adults.

On a brighter note, education news outlets also covered the value of expanding school culture beyond the district. We've already discussed the effect of having a positive school culture on the local community, but districts have an opportunity to take it a step further by embracing technology to forge connections and develop global citizenship in their own backyards.

Lessons learned:
Your culture can gain notoriety for positive or negative reasons.

What to read next:
On the Road: Chickens, Crops, and Community
The Elusive Coaching Culture

---

Social-Emotional Learning Efforts
What we said in January:
ESSA requires school leaders to measure SEL, but no states' plans included consideration for measurement.
Teaching the whole child is already happening, but typically on a small scale.
Cultivating soft skills is important to college and career readiness.

In the news so far:
The topic of social-emotional learning has exploded in the news lately. Historically, a fair amount of SEL coverage has relied on gender stereotypes. Even if the bias is unconscious, people may incorrectly assume SEL skills will be instinctive to girls, requiring very little coaching or intervention. At the same time, boys are expected to inherently struggle, making substandard effort seem heroic. Is this assumption doing boys a disservice, making it easier to mask at-risk behavior when expectations are set low from the start?

News outlets have also heavily leaned on SEL as a way for schools to discover and address mental health issues in students. At the very least, SEL can be a start—as long as it goes deeper than simply adding new rules and assignments.

Finally, in regard to ESSA plans, New York is issuing new guidelines and resources as they implement SEL. Goals have been set, and some consideration has been given to measurement—the state released surveys to six districts in 2016-17 to begin work on an index of school culture.

Lessons learned:
SEL strategy must be rooted in equity and sincerity in order to have a substantial impact.

What to read next:
Maslow and the Modern Learning Environment

---
School PR Strategies
What we said in January:
It's important to own your story before someone else does.
Invest time and energy to guide your message with substance and transparency.
Be strategic about how your message is shared across various mediums.

In the news so far:
School PR is, by necessity, a very connected field, so it's no surprise to find a tight-knit, collaborative community behind the curtain. The communications crowd features one of the most engaging weekly Twitter chats and a creative, brilliant group of individuals helping to tell the stories of their respective school systems.

In the aftermath of the Parkland shooting in February, the media gave the most attention to student voices as they spurred activism nationwide, but the district itself faced intense scrutiny of what news outlets called "a culture of leniency," after investigators combed through disciplinary records and uncovered statements about marketing the district's suspension and expulsion decline. District leaders released conflicting statements in response, further muddying the waters of whether the stories in the press were accurate or misinformed.

In the midst of another tragedy in mid-May, Santa Fe ISD in Texas used multiple channels to share quick, clear communication. The messages, shared on social media and a pop-up on the district website, confirmed the attack, were open about what leaders were waiting to learn, and directed parents to the safe place they could reunite with students.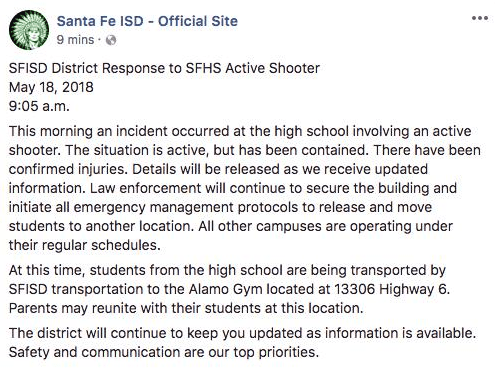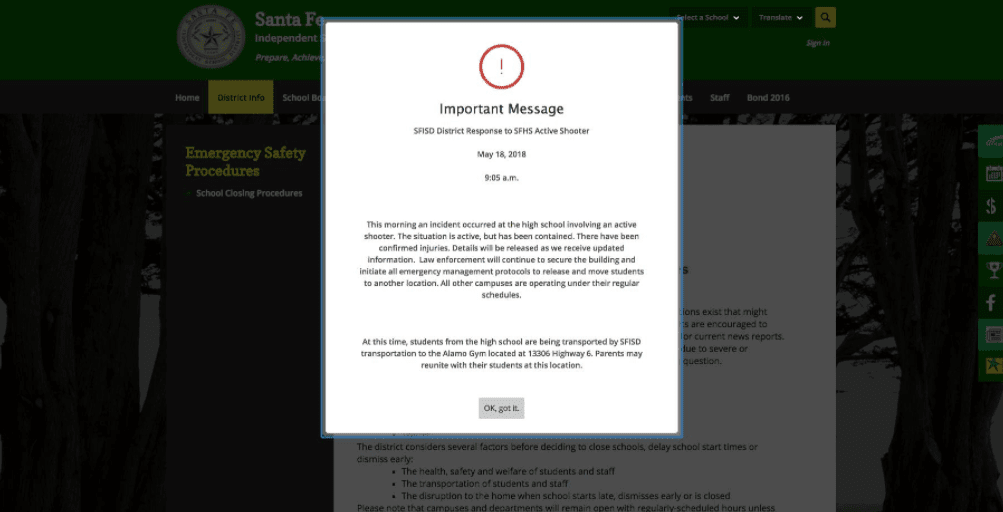 In the days following, Santa Fe ISD leaders continued to use social channels to share information related to the investigation as it was available, including addressing rumors head-on and housekeeping instructions for retrieving belongings from the high school.

No one can provide a perfect response in these circumstances, but high-performing PR pros can help clarify the story and keep your district's future in mind when fielding inevitable questions.

Lessons learned:
Regardless of the situation, it's essential to own and share your story before someone else does.

What to read next:
EdTech Playbook: Twitter for Educators
The Parent Engagement Showcase

---
Follow-up Resource: Subscribe to Advancing K12
What will the next six months bring as we head toward 2019? Stay tuned to find out. Enter your email and hit the subscribe button in the footer below!